Adam Vinatieri, The oldest, highest scoring, and overall greatest player of all time. Adam continues to establish himself as the greatest player to ever step on the gridiron. While others may make good plays, Adam consistently shows up in prime time and dominates. His talents should never go unnoticed. He has shown why he has the most points of any player in history.
He has only recently surpassed Morten Andersen as the highest scoring player of all time. Not only is he an amazing kicker, but a great role model. Many who have worked with him talk about his humility and ability to better those around him. We will address his life story and what makes him so great in this post. Grab your favorite rocking chair, get some ice tea, and enjoy!
Before College
Adam was a multi-sport athlete. He lettered in football, wrestling, basketball, soccer, and track. He earned first-team all-state honors as a senior and was a quarterback and linebacker. For his age, he was big. But getting to college level, so was everyone else.
SDSU Superstar
Vinatieri played at South Dakota State University for all 4 years. As a kicker and punter, Adam amassed 185 career points and was first-team all-conference in each of his seasons playing.
Professional / NFL Career
Adam graduated and went on to play Professional football with the Amsterdam Admirals. During his season with them, he made 9 out of 10 kicks with 4 PATs. This earned him All-Europe Team awards.
After a great season, Vinatieri got to play for the New England Patriots from 1996-2005. In his first season on the team, they went to the super bowl. In 2001 against the Raiders, During this time, Adam made his famous blizzard kick from 45 yards out to tie the game and send it to overtime. Later in that same game, he made a 23-yard game-winner to send the patriots to the next round.
In that same season, Vinatieri kicked a 48-yard field goal on the final play against the St Louis Rams. This was to give the Patriots their first super bowl win.
Then again, 2 years later, Vinatieri kicked a 41-yard field goal with four seconds left to give the patriots another super bowl victory over the Carolina Panthers.
NFL Continued
By the end of Vinatieri's final season with the Patriots, he has over 18 game-winning field goals in the final minute or less. Not to mention he had an 81.9% field goal percentage which places him in the top 5 of all time.
Vinatieri found himself with the colts in the 2006 season where ironically, the colts beat the patriots in the AFC Championship game. As a result, this Super Bowl was Vinatieri's 4th win.
Each season from 2007-2009 was another incredible season minus 2009 when he got injured 6 games in. In 2010, Adam returned to the spotlight.
Adam Vinatieri NFL Records
Wikipedia sources include some of his incredible records achieved from 2010-2015:
He became the seventh kicker in NFL history to score 500-plus points with two teams (850 with Colts; 1,156 with Patriots)
He connected on 26 of 28 Field Goals (92.9 percent) this season, the best percentage among NFL kickers that season with at least 20 attempts
On November 14 vs. Cincinnati, he surpassed Eddie Murray (who had 352 career FGs) for 11th-most FGs made in NFL history[35]
His 129 points marked the second-most of his career. It marked the 14th time he surpassed 100 points in a season[35]
He was named AFC Special Teams Player of the Week two times during 2010. It marked twelve (12) times during his career (including 8 times with the New England Patriots)[44]
More NFL Records
Again, Vinateri continues to break records.
"Vinatieri became the first player in NFL history to convert 50 field goals in the postseason.[46]"
First-ever ranked top 100 Football player (and oldest)
He is the first player in NFL history to score 1,000 points with two teams.[53] 
He set the NFL's all-time record for overtime field goals made in a career with 10
Vinatieri kicked his 43rd successful field goal in a row to break the NFL record set by Mike Vanderjagt.[58] (2016)
He is the oldest player to hit a field goal of 50 yards or more
All-time leader in field goals
NFL leader with points scored
There are many other records that Vinateri has carved his name into. However, if we were to name all of them, we might be spending an entire day reading them. Adam Vinateri is by definition, the greatest of all time. The main reason is if someone else was, their name would be #1. That being said, it is great to be able to watch Vinateri do what he is doing at his age. Arguably the most consistent kicker of all time. If there was a game-winner on the line, Adam is my go-to guy. No one has the amount of high-pressure experience he has. And that makes all the difference.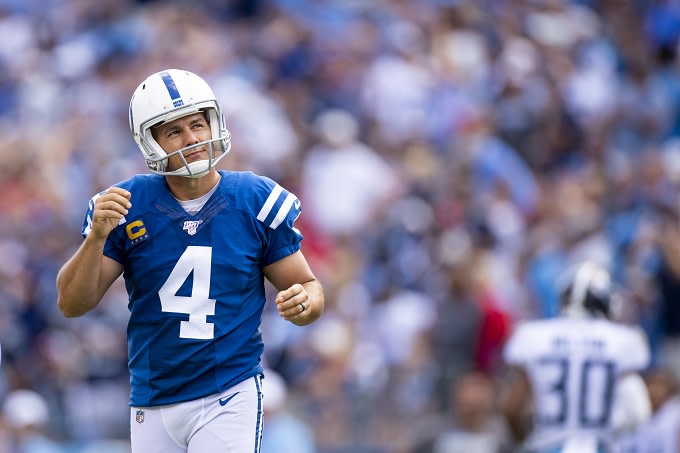 Adam Vinatieri
Adam Vinateri, a nationally known name, made his name by making clutch field goals. One thing that not many people know, Vinateri did not even get on an NFL team's radar until he went 9/10 in the European league. As impressive as Vinateri is, the fact that no team knew about him is impressive in and of itself. While it may seem shocking, this is the case for many Elite kickers. Many kickers that are drafted do not work out, and the ones that do not get drafted, thrive.
Adam Vinateri consistently establishes himself onto the platform as the NFL's greatest kicker of all time. With a massive chip on his shoulder, he beat almost every record possible. He is impressive for scoring the most points in history. That means of all the records, Vinateri is statistically, the greatest of all time.
Adam Vinatieri Salary
Because of the accolades, Vinatieri gets to enjoy a large sum of money. It all starts back in 1996, this guy from a small School in South Dakota, began his journey as one of the if not THE greatest kicker of all time. However, starting out, Vinateri almost did not make it to the next season. Bill Parcels (New England Patriots coach at the time) said Vinateri was on a week by week basis. He was not consistent enough so he was on the verge of being cut.
Therefore, Adam made it a mission to perfect his craft and become the best version of himself. Then, he won 4 super bowls over his career. Two of which are game-winning field goals. Therefore, since Vinateri Broke just about every record there might be for kickers, he should be the #1 pick for the hall of fame upon retiring. God speed Adam.
Over Vinateri's 23 years in the NFL, he has made an average of $2,141,609, or total career earnings of $49,257,000. Typically, that means he makes most of his money from a longer more secure contract. 7 out of the 11 contracts he put ink on, were over 2-year contracts. He like many got most of the money from longer, more secure contracts. Now that is a lot of cheddaaa!
Adam Vinatieri Salary
While many things can be said about Vinateri, the main Consistency attribute about him, he knows how to take care of himself. Imagine, he is over 46 years old and he still kicks 50+ yard field goals. His nutrition needs to be incredible in order to maintain such a high level of playing.
It goes without saying but if the average player took care of their body the same way Vinateri does, everyone would be in much better shape. He mentions that the main formula for staying in the game as long as he has stems from rest, nutrition, and spending quality time with the trainers. This way, all of the little things are done right so come game day, and he is more than ready to perform.
Vinatieri Stories
Watching Adam play over the years has always been an amazing experience. He claims to have at least 2 more years in the tank so we will have to see. Day by day for this guy. Pat Mcafee, an absolute legend in the kicking realm, was Vinatieri's holder for over 8 seasons. During this time, he has some incredible stories of the kicking legend. Some of them include his stone-cold stare when attempting a game-winning kick. "He becomes a different animal when he gets on the field for a game-winner." He definitely needs to share more amazing stories of Vinateri as they are always entertaining.
There was another story of Vinateri where he had a nagging pain in his knee and just went through surgery. During his time off the team, he was kicking with the training staff just to see how he would do. Then one day, Matt Stover a previous kicker for the ravens, went on to the field. There would be a kicking competition between both kickers. Stover went first and made his extra point, so did Vinateri, They backed the ball up 10 yards, Stover made it, so did Vinateri.
They put the ball back another time, this time Stover missed, not Vinateri however. This went on for 10 kicks, Stover was 6-10, Vinateri was 10-10. Mind you, Adam has been out for weeks due to a tender knee. Ultimately, he chose not to continue with the season. However, Vinateri showed great tenacity in his ability to fight through pain for the betterment of the team.
Vinatieri Stories Continued
In the end, he did not want to risk a few more kicks this season for a lifelong injury that could have been prevented through rest. Therefore, the Colts went on to the super bowl and lost to the saints. Stover missed a 51-yard attempt that many think Adam would have made no problem. No matter the situation, Vinateri knows the importance of doing the right thing and he still thrives on the team to this day.
The great thing about Adam stems from his ability to continuously perform no matter the circumstance. From chasing down Herschel Walker to kicking in a blizzard to send his team to the super bowl, Vinateri has a legacy. Throughout his career, he continues to solidify new stories about him or his performance. No matter the situation, Vinateri knows that he has the ability and support to last at least 2 if not more years in the NFL.
The question just becomes how will he make more legacies in the following games? As he continues to impress people with his skills and abilities, the community wants to show our support for him. We want Vinateri to stay in as long as he feels comfortable. The main concern becomes his overall health.
He needs to maintain a healthy body so he can continue to give 110% in everything he does. No matter the circumstance, we are proud of him and his accomplishments. Stay in it Adam! Stay golden ponyboy.
Vinatieri Stories Continued Again…
Some Interesting Vinateri Facts
Vinatieri made his debut with the Patriots on Sept. 1, 1996. Colts running back Nyheim Hines was born Nov. 12, 1996.
Vinateri was one maybe 2 kicks away from not playing for the Patriots back in his rookie season,
Adam has a nephew, Chase Vinateri, who is also doing well at SDSU
The Vinateris have a family of 3 kids.
There are many other cool stories about Vinateri and how he became a legend. The core focus remains that Adam has had so many challenges and events of adversity that he has grown so much. Through his growth, that remains one of the biggest reasons for how and why he became so successful. The saying pressure makes diamonds has never been so true here. As long as Vinateri remains healthy and able to hit the ball the way he has been, he should be one of the most legendary players in the NFL for years to come. Stretching can be such a great tool for him or anyone looking to extend their playing career. Along with stretches, Workouts, Core Workouts, and any other Leg Workouts will do the job just fine.
If you enjoyed reading this article, please share this so we can continue to grow! Also, if you have any suggestions for what we should write about next, let us know!
Thanks for reading and stay amazing!